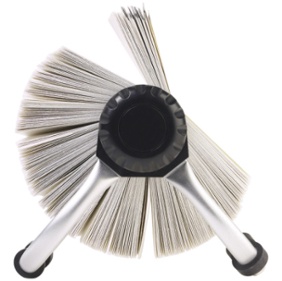 The purpose of most business websites is to generate leads online. However, sometimes the most basic rules of marketing get lost in all the really cool things you can do when it comes to web design.
All the other pages on your website, awesome as they are, should be designed to marry a thought to an action and that action is CONTACT. When the visitor and the business make contact, whether by walking in the door, picking up the phone, or sending you an email, that's when the magic happens.
So what makes for a great Contact Us page format? Ease and simplicity, making the task practically automatic by providing them everything they could possibly need.
Here are common page elements of a Contact Us page:
Business Name and Address
Locations (if multiple)
Business Hours
Contact Email address
Facebook and Social Links
Map to location
Business Summary or Elevator Pitch
Testimonial
Chat or 'Call me' features (for larger, or web-based companies)
One of the knocks on Contact Us pages over the years is that they are boring. But when it comes to a Contact Us page, boring is ok. It's a tool, the more mindless the better.
Don't Forget To Think Mobile
As more and more people rely on their mobile devices for search, having a good Contact Us page for mobile phones is critical. Nobody likes to scroll all over, pinch and resize just to find your phone number or read a map.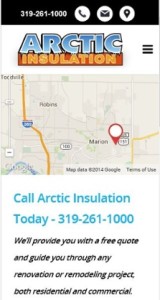 For instance, this service company makes it easy for mobile viewers to fill out a contact form or click-to-call (the phone icon) right from their device because the Contact Us page was created with mobile phone usage in mind.
Beyond responsive design, consider what will be important to your mobile visitors, and how easy it is to interact with your contact page on the go. Can they fill out your contact form easily? Are there too many fields in your form?
Keep their attention where you want it focused, moving from visitor to lead. Whether the contact is made by phone or email, highlight the best or most preferred way to connect.
Tailor to Your Unique Visitor
While you want to keep your Contact Us for simple and easy to use, when it comes to design think of what your visitors expect from you. If you are a conservative accounting firm, don't make your contact form too playful or overly stylized. But, if you are a restaurant with a beautiful theme or a design, a more experiential approach may be warranted. Keep your brand consistent throughout the entire visit.
Analytics
Because of its importance, we strongly recommend following the performance of your contact us page with web analytics. For instance, you could try the free plugin Leadin to see who's visiting and what they are doing on your site.
If you are getting a bounce rate greater than 50%, consider adding more content describing the benefits of your business. Review forms and make sure they aren't too long, or if you are using a contact management system, make sure your fields are mapped properly. Restate the benefits of contacting you such as a free estimate, coupon or services you want to highlight. Simple changes, like making text easier to read and maps interactive (using a google-map), may help your conversion rates.
Finish Strong
Contact Us pages offer you a chance to close a deal or start a conversation. Remember, generating leads online is the goal and your contact us page is often the last stop the journey. Make sure your contact us page is a good ambassador for your brand and your communication style.
Still have questions about website best practices? Contact Fusionfarm today.