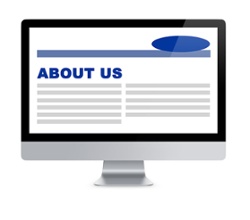 Have you ever had to write an 'About us' page for your website but been unsure of what to include? Let's face it, writing content for your website is hard. Determining how much you need to write and what you need to write about are no small tasks. Many business owners struggle putting more than a few sentences together about their business. Other businesses have plenty to say, but aren't sure what to include. Since we know it can be overwhelming, we've written up our guidelines for writing content that will create a compelling About Us page.
The About Us page is one of the most important pages on your website. It tells your visitors who you are, what you do and is a great opportunity to differentiate yourself from the competition. Website visitors go to the About Us page when they want to learn more about your business.  Therefore, it is vital to have this information up to date and easy to find on your website. Read on to find out three best practices to follow when writing content for your About Us page.
YOUR WEBSITE ABOUT US PAGE SHOULD ANSWER THREE QUESTIONS:
       Who is your business?
       What does your business do?
       Why does your business matter to the customer?
Who is your business?
When dealing with an online retailer or content source, visitors will look for validation that the content they are consuming is authentic. A good About Us page will solidify your business as a trusted source, humanize your website and give credibility to your content.
HERE ARE CONTENT SUGGESTIONS FOR WHAT TO INCLUDE ON YOUR ABOUT US PAGE:
Showcase the people that make up your business
Share your business' history, or other unique stories about your business
Talk about your company goals, mission statement if it makes sense to share with potential and current customers
What does your business do?
Every business has its own unique value proposition, make sure to share it on your website. Use your About Us page to highlight your different products and services, their benefits, and how your business helps solve a problem.
SUGGESTIONS OF QUESTIONS TO ANSWER:
What types of customers do you serve?
What industry are you in?
What products/services do you offer?
What are the benefits of products/services?
What is your process for serving the customer?
Why does your business matter to the customer?
The purpose of your entire website is to have a web presence that positions your business as the solution to a consumer's problem. Looking at your website from that perspective, it's easy to see that the most important accomplishment of your website should be to express why your business matters to the end customer. While you should strive to accomplish that goal with the website as a whole, the About Us page gives you the opportunity to address this need with a message written directly to your website audience.
SUGGESTIONS OF QUESTIONS TO ANSWER TO HELP THE CUSTOMER:
How is the business different from competitors?
 Does the business do anything outside of their regular course of business that is interesting or  valuable to the community?
Does the business have any awards, business recognition or success stories you can write about?
Does the business take pride in something? Such as, customer service, best product or service, quick turnaround, company history.
MORE HELPFUL TIPS FOR WRITING WEBSITE CONTENT FOR YOUR ABOUT US PAGE:
Include the company's preferred contact information and encourage visitors to reach out.
Give us a call at 319-xxx-xxxx
Send us an email

 

email@example.biz
Stop by 123 Store Address Ave, Cedar Rapids, IA
Be succinct – If you can get your message across in 5 words, don't explain it in 10 words.
Keep it Simple – avoid industry jargon and confusing wording. The goal is to make sure as many people as possible understand who your business is, what your business does and why your business is the solution to their problem.
Be authentic – Write in a tone that is consistent with your brand. If your business is fun and quirky, write with a tone that aligns with your voice. If your business is official and professional, use a more formal tone.